If you would like to leave your own comment, you can either post one at www.facebook.com/sanmiguelproperty or email it to
This email address is being protected from spambots. You need JavaScript enabled to view it.

. ¡Gracias!
Thankyou so much Andy & Sorelle for selling our villa in San Miguel de Salinas.  It was sold within 1 month of appointing you.
We were so happy with the presentation of our villa on your website it looked amazing, also you were very pro-active and professional at all times.
We wish you both a Very Happy Christmas & New Year and wish you continued success for 2017.
Jeff & Gill Craighan (December 2016)
HI ANDY AND SORRELL
MANY THANKS FOR ALL THE HELP AND ASSISTANCE GIVEN ON THE PURCHASE OF OUR APARTMENT IN SAN MIGUEL. THE SERICE WAS FIRST CLASS, PROFESSIONAL AND FRIENDLY. ALWAYS GOING THE EXTRA MILE & NOTHING TOO MUCH TROUBLE.ALWAYS EASY TO SPEAK TO WITH ANY QUESTIONS OR PROBLEMS. AS PURCHASERS THEY LET US TAKE OUR TIME WITH NO PUSHY SALES TALK, THEIR AFTERSALES SEVICE IS ALSO TOP CLASS.  WE ARE NOW LOOKING FORWARD TO HOLIDAYS IN SAN MIGUEL. WE WOULD RECOMMEND VILLAS FOX TO ANYONE BUYING OR SELLING IN SPAIN. THANKS AGAIN.

                                  CAROL & GEOFF Wildsmith(November 2016)
"Andy & Sorelle are not just Estate Agents they go the extra mile, we had a problem & Andy fixed it so the sale of our property could go through, for which we are very grateful. They are always professional & efficient, and you just know that they are listening to you and not just paying lip-service to your requests. It was a pleasure doing business with them & would thoroughly recommend them.
Thanks Andy & Sorelle
Regards Doug & Sue Burt" (November 2016) 
"Hi Sorelle 
Thank you and Andy so much for your help and support with the purchase of our property in San Miguel, you both were very helpful with your guidance and support, it seemed to be a smooth transition through your help, you were very patient with us, as this was completely new to us, once and again thank you very much, and hope to see you both in the future. 
Regards
 Neil and Sue Cocker x"  (November 2016)
"Andy & Sorelle, Just a line to thank you both for your courtesy, when you sold my house for me, you were very professional and I found the whole thing very stress-free, and was so happy that a friend of mine had recommended you to me.  All this plus a bottle of cava!  Once again, thank you both!!  Yours sincerely, Wendy Lydon"
November 2016
"Andy & Sorelle

With our thanks for all your help and guidance in selling our house. 

Wishing all the very best for the future to both of you.

Diz & Roy" 
The Prentices (November 2016)
"Thank you again for all your help, stress, thousands of emails back and forward between us, viewing on two occasions in Spain, and now I own a property in Spain. I really don't believe it Andrew I am a home owner! Regards Liza"
Liza Welch (November 2016)
"My husband and I recently purchased an apartment in San Miguel.  We were novices to buying in the Spanish property market but a big thank you to Andy and Sorelle for showing us various apartments and for their advice and guidance regarding property purchase in Spain.  
We are very happy with our apartment and looking forward to spending many happy holidays in San Miguel.  I would highly recommend Villas Fox and we would have no hesitation in dealing with them again.
Once again, many thanks Andy and Sorelle."

Wallace & Margaret Weir (September 2016)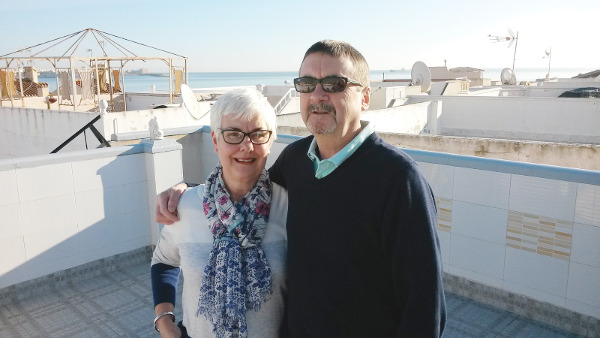 "We contacted Andy and Sorelle at Villas Fox when we were looking to buy a small property for holidays. We had already had several frustrating viewings with other agents who became too pushy.
From the first contact with Sorelle in October 2015, it was evident that they both had a genuine interest in helping us find our dream home. They listened carefully to understand our requirements and Sorelle found the perfect apartment for us fulfilling all our criteria. We completed the purchase in January and are going back for the 5th time in 2 weeks.
We love our little piece of heaven and it's all down to these two lovely people.
We highly recommend using Villas Fox as they exceeded our expectations and we will definitely be using them again in the future.
THANK YOU!"
Rob and Sue Booth  (September 2016)
"I couldn't have had more help in any way , to make my purchase of a property in Spain any easier , it is a refreshing way in which as agents they go the extra mile in all aspects of their business , with also a very unintrusive way , very friendly ,honest ,and nothing too much for them to help you . I would recommend them very highly to anyone looking for not only help with a purchase , but any other queries or advice on a cross section of things . They are both very professional."
Olwen Vigart (September 2016)
"A big thank you to Andy and Sorelle for all your assistance in selling our villa in San Miguel.  A truly first class service. Andy and Sorelle are an extremely professional couple who provide a friendly personal service and worked hard in marketing our property, keeping us informed of viewings and progress along the way right through to the sale and completion. We would have no hesitation in recommending Villas Fox to any prospective buyer or seller."
Liz and Mike Henney (Aug 10, 2016)
"Just a short note to express our thanks in buying our house here in (usually) sunny Spain!  Your support, information and patience was amazing.  You received approx 70+ emails from me and responded to pretty much all of them!  1 year on we have cleaned, decorated and enjoyed 2 holidays and 2 golf breaks.  We recommend you 100%.  Thanks again."
Marc, Victoria, Thomas and Ryan Brett (August 2016)
"Thank you Andy and Sorelle for all your help throughout the process of buying a property in Spain.  Thanks to you I found a wonderful apartment in San Miguel.
After a disappointing time in April looking for property I came across a property that was advertised by you and that was it.  From day one when Sorelle sent me an email of all the properties I was going to visit with Andy to finding the right one was brilliant.
I completed this week on my new apartment. I would highly recommend Villas Fox. Thank you again, Erica"
Erica Lane, June 11th 2016
"
We were total beginners to the Spanish property market, Andy and Sorelle listened to our requirements and showed us around a number of properties. The outcome of which was us completing on our purchase on the 30th May. Throughout the process they were extremely pleasant, professional and patient. Would recommend them to anyone."
Barrie and Jayne Southern, June 6th 2016
"Top estate agent on the Costa Blanca"
(June and Norman Long, May 30th, 2016, who sold their San Miguel de Salinas apartment with Villas Fox)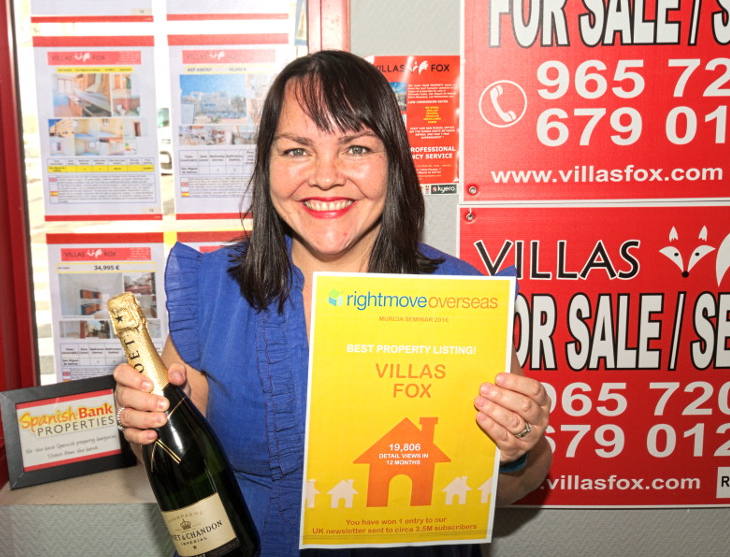 May 2016 - we´ve won some free advertising and bubbly from Rightmove for the BEST PROPERTY LISTING award (southern Spain)  based on number of  views!  This is recognition that our adverts make your property stand out from the rest of the crowd !!

26th April 2016
"Dear Andy, this is great news.  Truly we would not have been able to purchase if it was not for your hard work. Thanks ever so much. Kind regards, Anjily" 21st April 2016
"Hello Andy & Sorelle Many thanks for your time and assistance in our quest for a property in Spain.  We spent a very busy week looking around a lot of properties and I must say we were very impressed with the service you afforded us on our search. Consequently should we decide to put our apartment up for sale, I was wondering what your charges are for this" Richard Hankey, 15th February 2016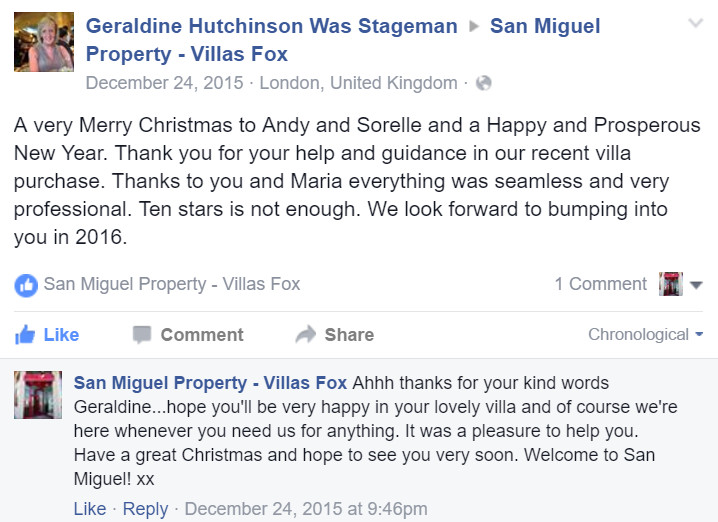 "Recently we were searching for a second property and fortunately came across Andy Fox from Spanish Bank Property.  After viewing several properties he quickly found us the property we were looking for when others had failed miserably showing us totally unsuitable properties.  
The service he provided for us and the seller can only be described as first class and the transaction was managed in a speedy and very professional manner.  We will definitely seek his advice and use his services should it be required in the future.
We have no hesitation in recommending Andy Fox and the services he provices."
David and Edna Holden
Cañadas de San Pedro,
30164 Murcia
13th February 2013
"Spanish Bank Properties advertised my property for sale recently and although it was not sold by them, they were the only company to properly market the apartment.  They kept us informed at all times of any viewings that had been made, they always left the property secure (many estate agents did not!)  and always answered telephone calls and emails immediately.  A professional service who I would definitely recommend.  Thanks."
Mark and Antonia Pollitt
Feb 2013
"We bought our property through Andy Fox and Spanish Bank Properties autumn 2011 and we can truly recommend his services. He's always ready to answer any questions and his after sales service is awesome. The fact that he also can help you with any questions regarding mortgage is an extra plus."
Mr and Mrs Johansson, Sweden.
"Vi köpte vår fastighet genom Andy Fox och Spanish Bank Properties hösten 2011 och vi kan verkligen rekommendera hans tjänster. Han finns alltid till hands för att svara på de frågor man har och han hjälper till med det mesta även efter köpet. Att han dessutom kan hjälpa till med finansiering är ett extra plus."
Marie och Billy Johansson, Norrköping, Sveri