Details

Written by

Andy Fox

Category: Villas Fox Blog
Hits: 1157
Please note that we have added a link in our "Useful" menu to the UK government advice regarding residency status in Spain.
Details

Written by

Andy Fox

Category: Villas Fox Blog
Hits: 1476
We reached another landmark last week which was very important to us.  We became a limited company, Villas Fox S.L. !  It´s something we´ve been thinking about doing for a long time in order to present a more professional image, but we had doubts about the set-up costs, ongoing admin costs etc.  However, after a long chat with our accountant, and weighing up the pros and cons, we decided that it was the right thing for us to do, and so initiated the process (which involved submitting a list of 5 possible names, in order of preference, and hoping that our first choice was not already taken or conflicted with an existing company).  A couple of weeks later, we got the good news that Villas Fox S.L. had been temporarily reserved for us, and so we had to lodge the initial capital with the bank, and go to the notary to sign the company title deeds.  But that wasn´t the end of it.  We then had to wait for the company deeds to be accepted by, and registered with the Alicante registro mercantil (merchants register).  Finally, last week we received notification that this had been formalised, and that is the piece of paper that Sorelle is holding in the photo! Onwards and upwards (hopefully!)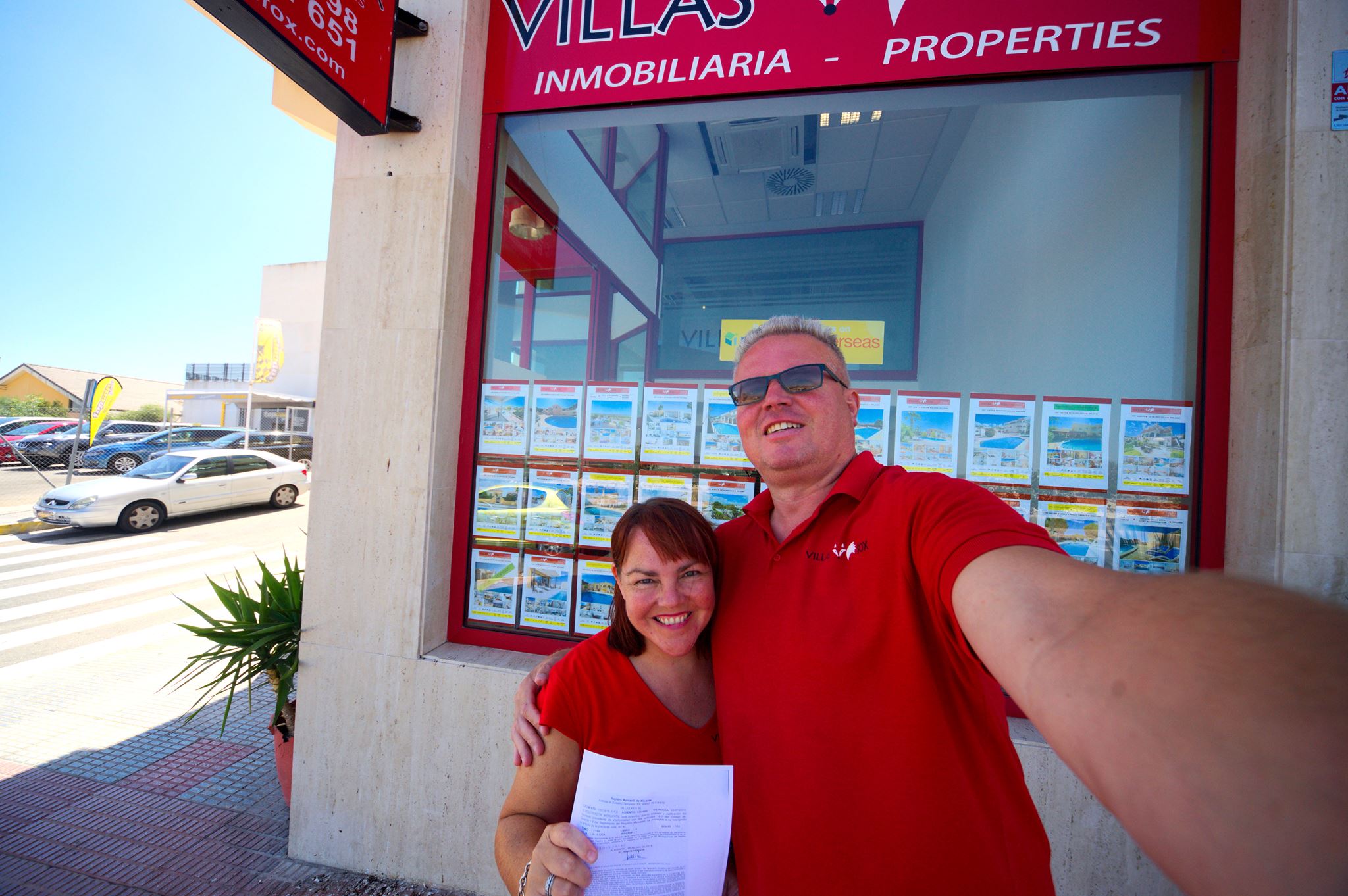 Details

Written by

Andy Fox

Category: Villas Fox Blog
Hits: 4911
1. As a small family company, we offer a friendly and personal service to all our clients, whether they are buying or selling property.  We have been established in the area since 2005, and have built up a solid reputation as reliable professionals that you can depend upon.  We have sold over 150 local properties since our new office opened in 2015!  We are proud to support and put something back into the local community by sponsoring the Racing San Miguel football team, Help Vega Baja charity, San Miguel Tigers petanca club and the Tarambanas carnival group every year.  We are a member of the AIPP (Association of International Property Professionals) and abide by their code of conduct.

2. Our terms do not restrict which solicitor/lawyer you can use.  We are happy to work with the lawyer of YOUR choice (although for your own protection we do strongly recommend you use an official lawyer on the list found at: https://www.abogacia.es/servicios-abogacia/censo-de-letrados/). 

3. INTERNATIONAL MARKETS - the Belgian, French, Dutch, Scandinavian and Icelandic markets are extremely active at the moment.  We collaborate with other agencies who specialise in bringing these kinds of clients to Spain, and many of our sales are as a result of networking with other agents such as these.  In such cases, there is no increase in the total agents fee, ie you pay nothing extra!  More importantly, by offering your property to a broad mix of nationalities, you are more likely to get a better offer for your property, leading to higher proceeds to you compared to when you sell via agents who offer low fees but don´t market your property properly to clients from all over the world.  Our website is available in 17 different languages too - just click on the flags at the top of the page!

4. WE ONLY SELL DIRECT LISTING PROPERTIES, ie we focus 100% of our energy on promoting properties which are our direct listings with the owners.  We don´t sell properties for other agencies.  So, not only does that mean that we will prioritise finding a buyer for YOUR property, but it also means that potential buyers can be reassured that they will only have to deal with ONE AGENCY if they see your property advertised by us!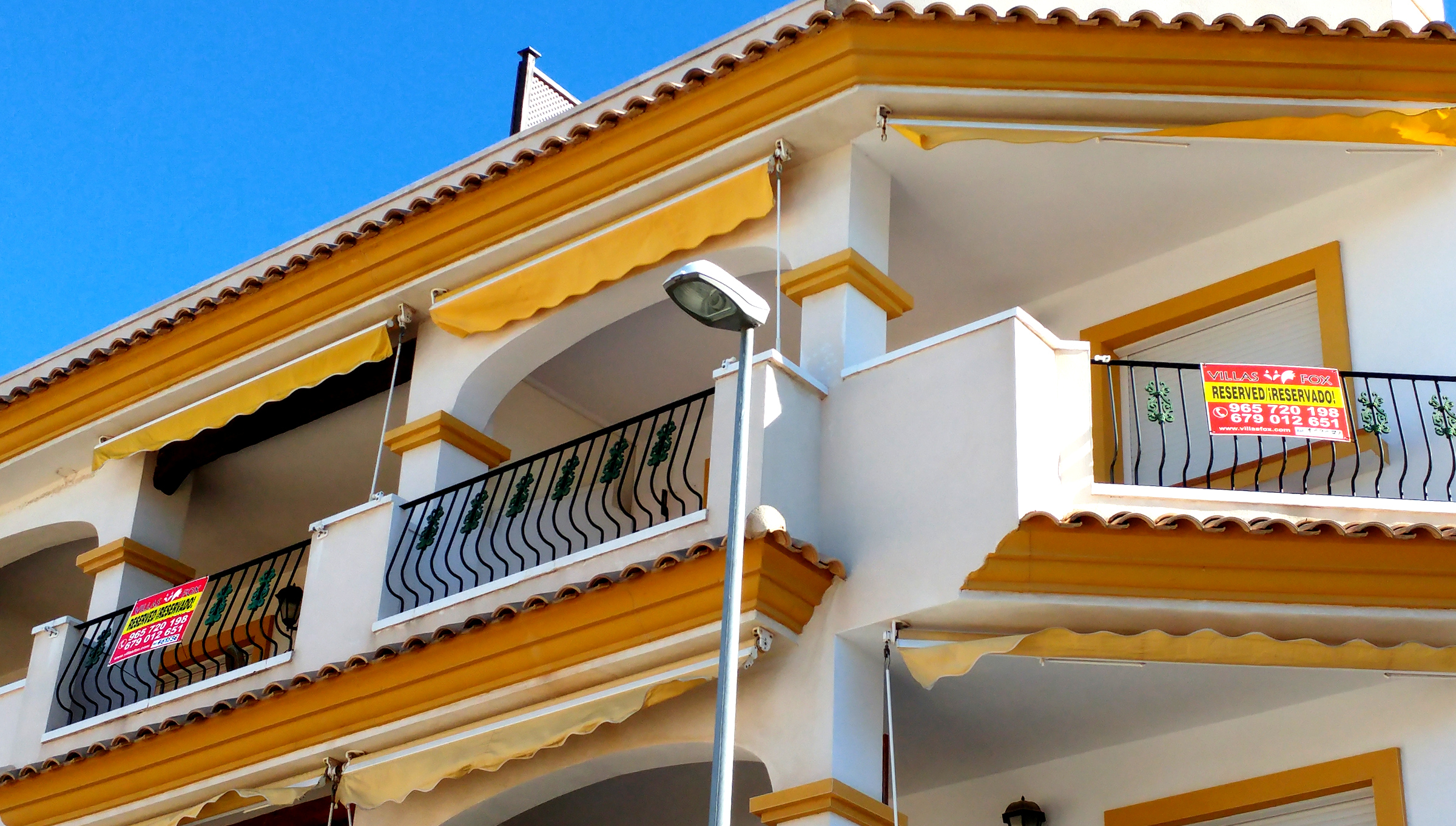 5. We have a wider selection of properties in the San Miguel de Salinas area than ANY OTHER AGENT which is why buyers and other agents call us first.  To highlight this, some recent statistics from Rightmove showed that almost 40% of ALL San Miguel property leads go to Villas Fox, with no other agent obtaining more than 12% of the leads!! An important benefit to you from this is that we already have a MASSIVE database of potential clients we can market your property to.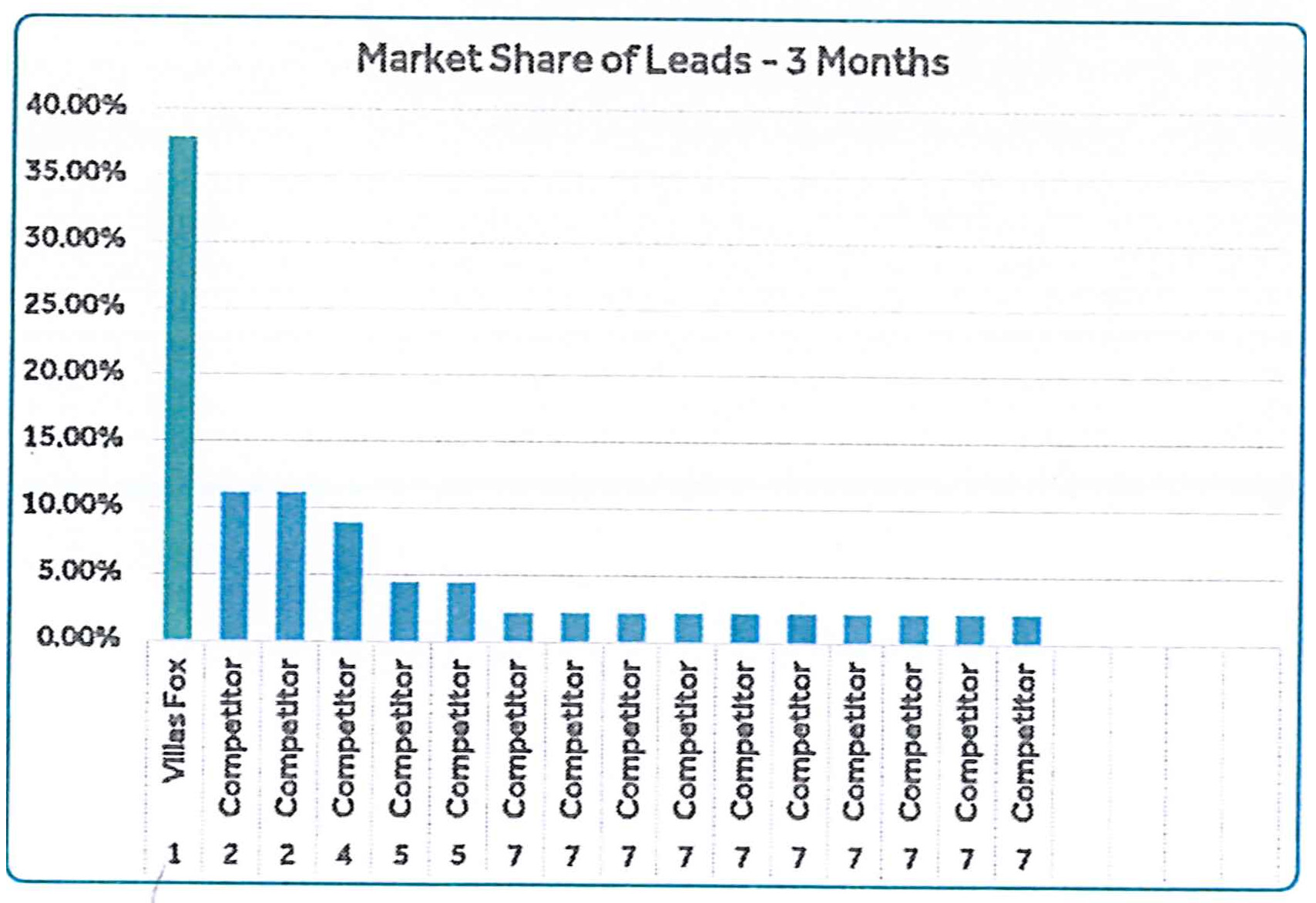 6. Our modern office with lots of window-space is ideally positioned on the busiest road in San Miguel, with lots of parking spaces and is open at least 48 hours per week including Saturdays!  Some of our local competitors only open 30 hours per week in comparison!  We often conduct viewings on Sundays too.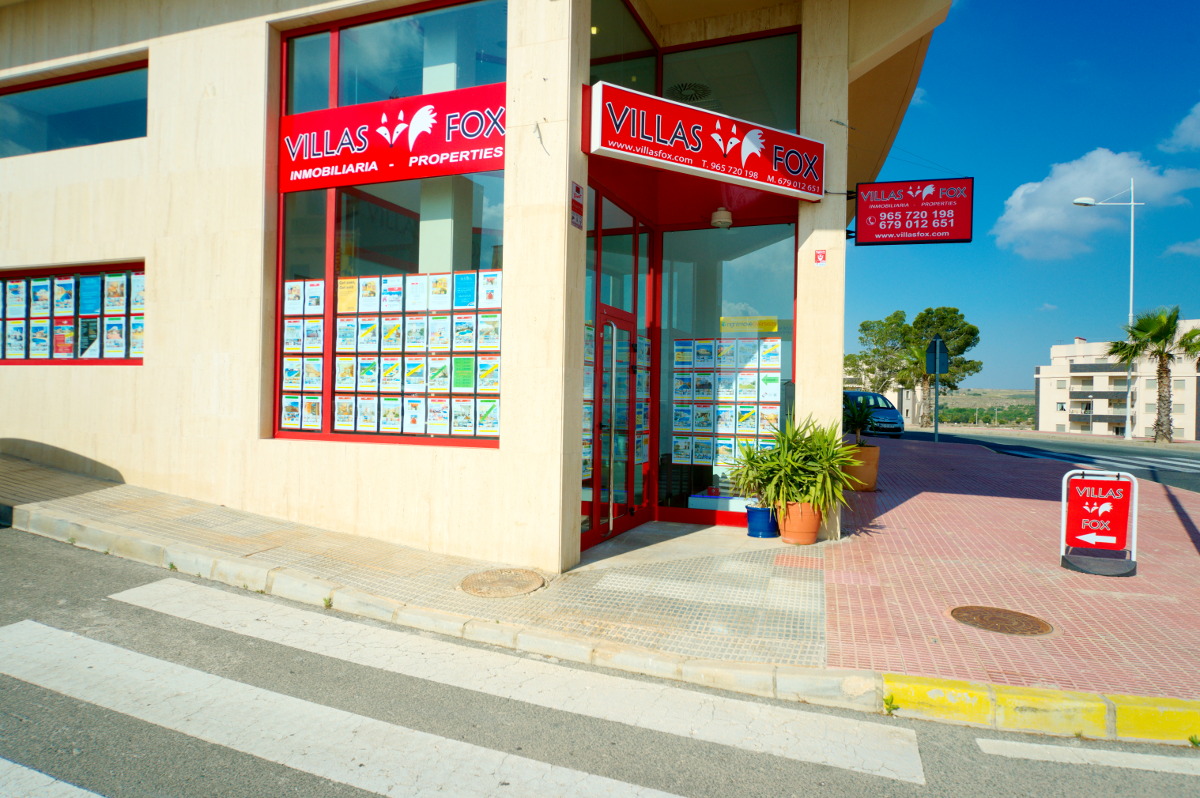 7. Our valuations are free and not flattering, ie we will not deliberately over-estimate the true value of your property in order to gain your business, as this wastes time for you and can give your property a "left-on-the-shelf" effect if it fails to sell promptly.  Nor do we under-estimate the value in order to gain a quick sale.  Instead we will work hard to maximise your proceeds from the sale, and use our negotiating skills to make sure that you get the very best deal possible.

8. We believe in taking our time to make sure the photographs of your property look professional and stunning, and for that reason we use professional photographic equipment, and spend a considerable amount of time editing and choosing the best photos to use.  The presentation of our properties also benefits from input from our sons Patrick and Ollie.  Patrick is a maths and computer science undergraduate who advises us on website design and systems.  Ollie has a good head for marketing and graphic design, and was responsible for designing our eye-catching logo!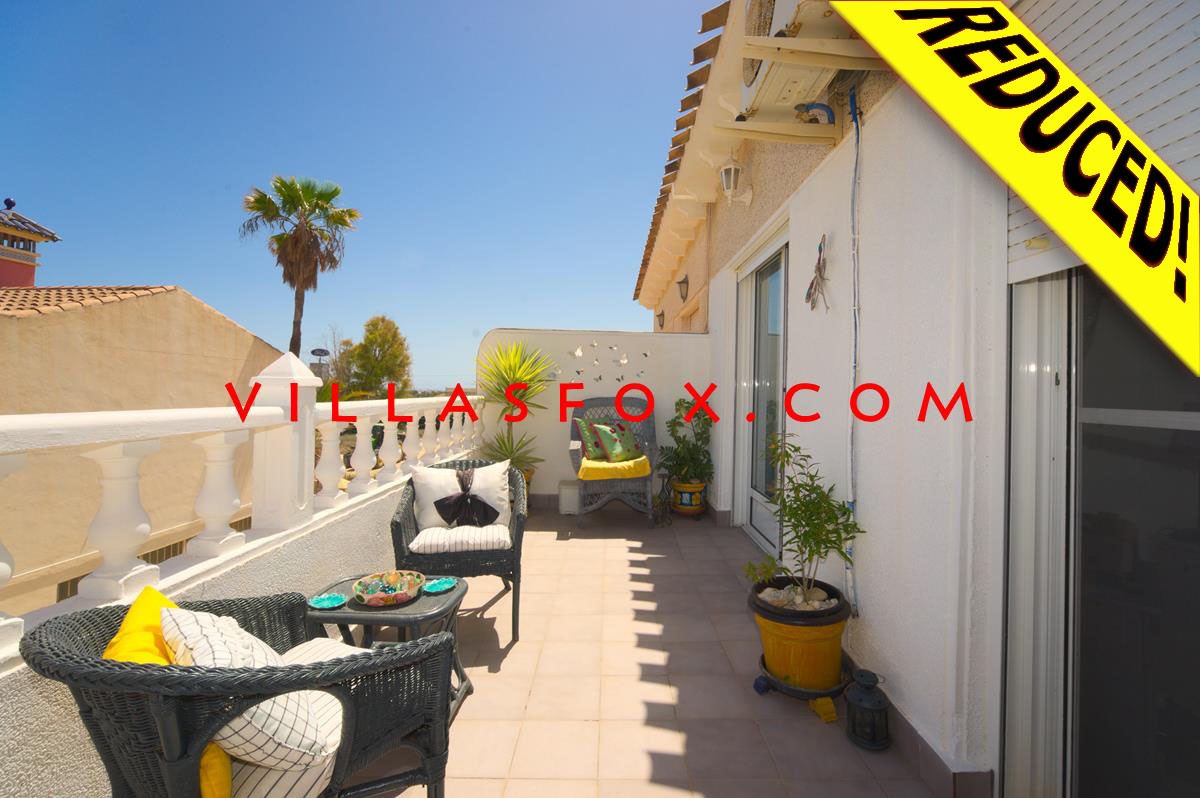 9. In this day and age, a strong internet and social media presence is of course essential for a business like ours, especially to attract international clients.  Our own websites are extremely well-positioned on Google to attract buyers of apartments and villas looking in this area, and we also advertise on several high-ranking international portals which currently include Rightmove, Kyero, Green-Acres, Think Spain and idealista.com.  We also have a free Villas Fox app on the App store and Play Store to give mobile users the best experience.  We run the San Miguel Forum on Facebook with over 1,000 followers, which allows us exclusive advertising of Villas Fox properties.  According to the independent search engine optimization site SEOtoolset.com, 4 of the websites (including this one) that we use to promote your property are in the top 8 websites for the search term "buying property in San Miguel de Salinas", and 3 (including this one) are in the top 8 for the even more competitive search term "buying property in Orihuela Costa" (see below).  We have even better results for search terms such as "buying villas in San Miguel de Salinas" and "buying apartments in San Miguel de Salinas".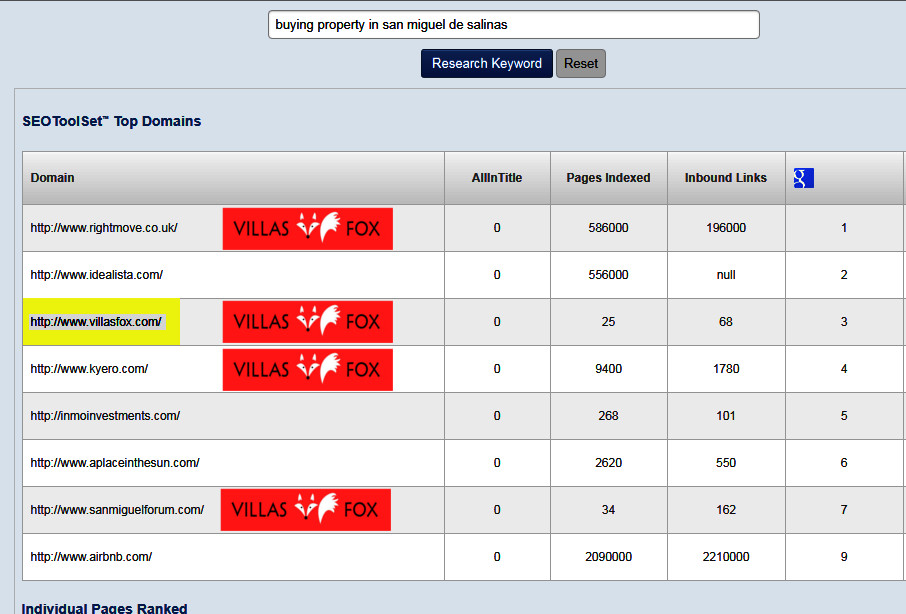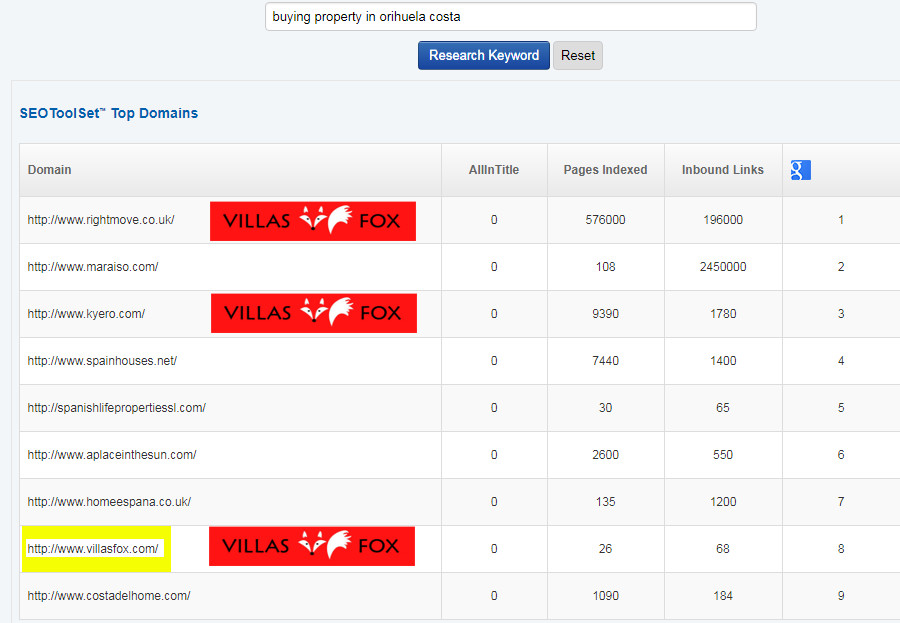 10. We speak English and Spanish (Andy holds an A2 certificate from the Instituto de Cervantes, and a GCSE A-level), and Andy also speaks French, which is invaluable when dealing with the increasingly important Belgian and French markets.  We also regularly sell to Spanish, Dutch, German, Norwegian, Swedish, Danish and Icelandic clients.

11. Although we recommend the services of a solicitor, we will take an active role in the sale up until completion and beyond, since finding a buyer can sometimes be only the first step in a daunting process if you don´t regularly sell Spanish property.  We are here to provide the guidance and reassurance you need, including the best advice about how to process the bankers draft you will receive in order to save hundreds of euros on bank charges and exchange rates.

12. Should you decide to leave keys with us, they are never labelled with the property address, and are stored behind strengthened glass in our former bank cashier´s box (our office was previously a bank which is alarmed with video surveillance connected to a central monitoring station!)  

13.  Andy is a former mortgage consultant for Bancaja (now Bankia) and is not afraid to ask questions about a buyers´ finances and to offer them realistic assistance in getting a Spanish mortgage, which allows us to connect buyers only with properties in their affordable range.

14.  Sorelle has a long track record in customer service and administration, and is often the friendly voice our clients hear first when they contact us to enquire about properties and arrange viewings with us.

15.  Having been in business for a long time locally, we now have a superb network of professionals that we rely on as part of the selling process, e.g. architects, solicitors, builders and bank managers.  We are widely respected for our efficiency in making sure the sales process goes smoothly from start to finish, and we get lots of recommendations from solicitors for example who know that they are putting their clients in good hands with us if they are looking to buy or sell.  Andy is currently studying to be a "Técnico de Gestión Inmobiliaria" which is the recognized Spanish qualification for estate agents which is compulsory in some parts of Spain.  Although not compulsory in this region, and not an easy course, Andy feels that it will ensure that we continue to operate according to correct procedures, in order to protect our clients and our reputation.

16.  Despite fears over Brexit, our business has gone from strength to strength since 2016, and have recently converted from self-employed to S.L. company status.  This doesn´t mean that we want to expand the company though, as we know our clients prefer to deal with a small and friendly family company that is focussed on their needs, rather than a large corporation.

17.  Our fees are not exorbitant, and we believe in delivering excellent value-for-money above all.  We aim to be the BEST, not the cheapest!  Any agency offering to sell your property for less is likely to want to make a quick sale and move on to the next one, rather than spending time marketing your property correctly and obtaining the very best price for you.  Either that or they intend to charge the buyer as well as the seller (this is a common practice) which means that their margin is not transparent.  We prefer to keep all parties informed about all costs and prices, with total transparency, and according to the law, in order to protect you.  As someone once said, buying a cheap suit could be the most expensive purchase you ever make!  We believe that because we are so well-established with a high volume of existing clients that we are much more likely to bring you a buyer who is willing to pay the full asking price, or close to it, than less well-established agencies.  That means that the net proceeds to you are likely to be higher with Villas Fox.

18. We operate on a "no sale, no fee" basis, ie we only charge for our services upon successful completion of the sale.

19. We allow you to use multiple agencies.  However, if you prefer to place your trust solely in us (as many vendors do), then we will repay that trust by doing all we can to find a good buyer for you in a short period of time.

20. Should you change your mind at any time, then we understand that life is not always predictable, and circumstances change.  We will give you good advice prior to marketing your property, to make sure that it´s the right decision for you, but are always available to discuss any changes to your plans.

21.  Please take time to read our testimonials page, because most of our business comes via recommendations and many of our former clients have had some extremely positive words to say about the service we have provided.  Now give us a call to make an appointment, or pop into our office for a chat!  
| | |
| --- | --- |
| | |
| Sorelle Fox | Andy Fox |
Details

Written by

Andy Fox

Category: Villas Fox Blog
Hits: 3654
We recently made the bold decision to stop promoting all resale properties except our own direct-with-owner listings!  This has drastically reduced the number of properties on display on our website, but means that
OUR BUYERS will be reassured that they only have to deal with ONE agency, rather than several, and that we will have the latest information and detail on the properties they are interested in, because we are in direct contact with the owners.

OUR SELLERS will be reassured that we will focus 100% of our energy on selling their properties, rather than properties from other agencies.
We didn´t take this decision lightly, but we hope that it will be one that will bring benefits to all our clients, and improve our reputation as an honest and reliable local estate agency you can trust!
Andy & Sorelle Fox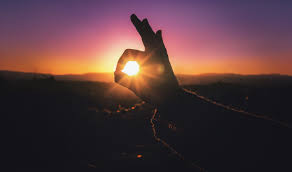 Details

Written by

Andy Fox

Category: Villas Fox Blog
Hits: 3820
Looking for a great deal in Spanish mortgages, but don´t have time to approach every bank personally?
Using a specialist mortgage broker can save you THOUSANDS of euros by finding the right mortgage for YOU!
But you also need to make sure you find the right broker too! Don´t worry, we´ve done that bit for you! Just click on the link above, and you´ll have an expert team of mortgage specialists working for you, at the click of a few buttons!
If you think you will need a mortgage when you buy in Spain, it´s best to get connected to the right people at an early stage, to give you good advice about what type of mortgage (and property) you should be looking for.