FOXBLOG!
Details

Category: Villas Fox Blog
Hits: 7712
€
4
2

69,950

Ref 25026 Apartment in San Miguel (Town centre)

€
1
1

70,000

Ref 25300 Ground-floor apartment in San Miguel (Mirador del Mediterraneo)

€
2
1

75,000

Ref 25305 Apartment in San Miguel (Town centre)

€
2
2

82,000

Ref 25306 Apartment in San Miguel (Town Centre)

€
2
1

82,500

Ref 25024 Apartment in San Miguel (Town centre)

€
3
2

129,950

Ref 25022 Detached villa in San Miguel (Lakeview Mansions)

€
3
3

250,000

Ref 25025 Semi-detached villa in San Miguel (Town centre)

€
4
3

265,000

Ref 25021 Detached Villa in San Miguel (Eagle´s Nest)

€
5
3

320,000

Ref 25307 Detached villa in San Miguel (Las Comunicaciones)
Details

Category: Villas Fox Blog
Hits: 10125
Does China give us clues as to how the property market will recover?
I use the word "recover" because although we aren´t officially in recession, effectively the property market (and much of the rest of the economy) in Spain is "on ice", ie frozen, paralysed and put-on-hold (apart from a very few exceptions) whilst the confinement (lockdown) continues.  The lockdown has now been officially extended till the 26th April, with President Sánchez already saying he fully expects to have to request an extension into May.  But the restrictions on non-essential businesses eg the construction industry are set to be relaxed on Monday (https://www.lasexta.com/noticias/nacional/construccion-industria-estas-son-las-actividades-que-se-reactivan-el-lunes-tras-el-paron-por-coronavirus_202004095e8f2387eb72ce00012a20ad.html) although there is scepticism about how this will work with the lack of personal protective equipment available.  
For our part at Villas Fox, we have several sales that were almost ready for completion prior to the lockdown, and we are expecting the majority of these sales to still take place as soon as the lockdown is lifted.  Hopefully that will be the start of our own personal recovery.  But this article published today in El Confidencial offers some reassurance about what the rest of the year might look like for the property market, and talks about a possible rapid recovery.  As you might expect, given the optimism of the article at a time when the whole country (unless you are one of the wonderful people holding everything together by working in or as part of a hospital, supermarket, petrol station, chemist, security forces, waste collection, delivery drivers  etc) is still almost under a 24 hour curfew with unprecedented fears about health, jobs and education...the comments section is already looking quite hostile!  https://www.elconfidencial.com/vivienda/2020-04-08/coronavirus-china-mercado-residencial-viviendas_2538008
Google translation: What will happen to housing in Spain? The Chinese market gives us several clues China's property market stopped in January 2020 to try to stem the expansion of the coronavirus. The Spanish did it on March 15 and 26 Photo: Construction workers commute by bicycle. (Reuters) Workers on a construction site travel by bicycle. (Reuters) AUTHOR E. SANZ Contact the author elena_sanz TAGS CORONAVIRUSREAL-ESTATE MARKETCHINA NEWSECONOMIC RECOVERYRESIDENTIAL SECTORBUY AND SELL READING TIME 12 min 04/08/2020 11:59 - UPDATED: 04/08/2020 18:28 The real estate market of China stopped in January 2020 to try to halt the spread of the coronavirus . The Spanish did it on March 15 and 26, when the Government decreed the state of alarm and later the cessation of all non-essential activities , including the works of dozens of promotions throughout the Spanish geography. In Spain, just as it happened in China, the sale of houses has been paralyzed and the uncertainty around this market once the works are restarted - predictably, on April 9 - is uncertain. Experts point to a deep crisis and rapid recovery , but the truth is that the practical absence of similar principles makes the future pose many questions. However, what happened in 2003 in Hong Kong with SARS or the gradual return of economic activity to China offer us some clues about the effects that this crisis will have on the national economy and, specifically, on the residential market. According to data from Capital Economics and Knight Frank, transactions in the 30 main cities of China have plummeted almost 100% from the day the first case of contagion was discovered, while in the first half of March, almost two months later. from that, sales partially recovered. Sales of houses in the entire month of March of the top 100 developers in the country increased by 136% compared to February In fact, according to data from China Real Estate Information Corporation (CRIC), home sales in the entire month of March of the country's top 100 developers increased by 136% compared to February , a percentage that reduces the drop in the first quarter at 21% compared to the first quarter of 2019. The promoters, meanwhile, expect sales to normalize during the month of April , although, according to Oxford Economics, there is still a lot of caution among buyers regarding the virus and uncertainty about job losses. The sector is confident, however, that the government's financial support measures and greater liquidity can help boost sales, as stated by the president of China Evergrande, the third largest sales promoter in the country, in statements collected by 'The New York Times'. Back to normal at the end of the year? In Spain, for its part, after the sales slump expected in March and April , the real estate sector as a whole relies on a slow recovery during the summer months, to achieve a certain normality of transactions in the final stretch of the year. Thus, for example, the CEO of the Appraisal Society, Juan Fernández-Aceytuno, was betting a few days ago to recover the average of about 40,000 monthly sales in the month of December . Also in China, many promoters consider that the coronavirus will only have a short-term effect and will not affect the demand for housing in the long term. The North American newspaper highlights, for example, how China Evergrande foresees an increase in sales of 30%, while other large promoters in the country have set more or less the same sales targets as last year , in some cases even higher. The first data already point to a certain normality. CapitaLand's sales offices in China progressively reopened in March, with sales of 1.3 billion yuan (170 million euros), more than 5.5 times their January and February sales combined. One of its projects in the city of Xi'an, which consists of 288 units and went on sale on March 24, sold in just four days for a gross value of 405 million yuan (almost 53 million euros). The house is preparing for the first price falls due to the coronavirus E. SANZ The arrival on the scene of a black swan called coronavirus has blown up the world economy and will have a direct impact on the residential market The first data on transactions and this type of sales - very punctual, of course - have injected a good dose of optimism into the country's large developers, who hope to increase spending thanks precisely to a faster rise in home sales. than expected in the first quarter and more liquidity. Analysts, however, call for caution, since the economic recovery could take longer than expected and, furthermore, warn that it will not be homogeneous, as they have already begun to verify. In fact, nationwide, home sales in terms of square meters are expected to show a drop of 14% in the first half and 4.5% in the second, as long as the pandemic is under control in April in the whole country. In addition, secondary markets and small cities are not yet at the recovery levels of large cities, where the lack of product and greater demand have allowed greater dynamism in transactions after the end of confinement. And in Spain, according to experts, the same is expected to happen. Pudong Financial Center in Shanghai, China. (EFE)Pudong Financial Center in Shanghai, China. (EFE) Recovery at different speeds According to CRIC data collected by the 'South China Morning Post', transactions in eight major cities - Shenzhen, Chengdu, Fuzhou, Hangzhou, Huaian, Yangzhou, Jiaxing and Shantou - show the return of buyers in recent weeks, with a volume of sales that has exceeded the average levels of the last quarter of 2019 . In addition, home sales in 30 large and medium-sized cities have tripled February figures in March, according to Wind Information. And the same could happen in Spain, with a market that since the recovery began in 2014 has moved at two speeds, with cities such as Madrid or Barcelona leading the way. Experts also hope that the lack of new construction product in both cities will serve as a catalyst for sales. The impact will also be very different in the developer sector. As in China, in Spain it is a highly atomized sector and analysts believe that a drop in home sales this year in the Chinese country could lead to the collapse of the smallest developers . In fact, the largest Chinese developers tend to focus their developments in large cities, where the demand for housing is strongest. The lack of product and greater demand have allowed greater dynamism of transactions in large cities In Spain, experts such as Juan Fernández-Aceytuno are betting that the trend prior to the outbreak of the crisis will continue. "If we take into account what has happened after other pandemic crises such as the SARS of 2003 in Hong Kong, after the initial coup, the real estate sector will resume the trend of prices and transactions prior to the outbreak of the crisis . That is, if said trend it was on the downside, it is expected to continue, but not to accelerate. " Regarding prices, few experts venture to make forecasts. In the case of Spain, the economist Gonzalo Bernardos figures a fall between 4% and 6% nationally and somewhat higher in Madrid and Barcelona , while Mikel Echavarren, CEO of Colliers International, foresees a further adjustment in the case of second - hand market completely paralyzed, and that being in private hands, visits to homes for sale were fully braking. Will prices drop? If we turn our gaze back to China, what has happened to prices? Some promoters have been forced to offer discounts to increase sales and avoid a liquidity crisis, but this does not seem to be an option on the table in Spain, since, as Samuel Population, director of national and land of CBRE, " there are not excessive margins to adjust prices , since it would mean putting too much stress on the promoter sector and incurring possible losses." On the other hand, according to the 'South China Morning Post', the prices of some projects have been limited by the Government , and are below the market price, which has favored sales, and the same has happened with the price. of land —especially that of state ownership—, which has encouraged the transactions of large developers, especially larger ones, since small, weaker and dependent on home sales to subsist, are being forced to drop ballast, with the sale of floors . An example. Country Garden, another of the country's large developers, bought more land in the first quarter than a year ago. Purchases that have been triggered by tax breaks and which have also caused the first price increases due to the huge buying appetite. Experts bet that the real estate sector will resume the trend of prices and transactions prior to the outbreak of the crisis Could something similar happen in Spain? Experts say that you have to be careful with comparisons, since the response of different governments to the crisis is being very different . According to Knight Frank, experience in Asia suggests that when the number of infections decreases, activity increases relatively quickly , although it is also true that it starts from very low levels. On the other hand, it should not be forgotten that in large cities such as Madrid or Barcelona, ​​the price trend was down before the outbreak of the crisis, while the great problem of accessibility to a home has not been solved. Furthermore, with house prices at their highest in these cities , the wave of temporary layoffs triggered by the conronavirus and the drop in wages, a possible deterioration in access to financing is expected , such that access to a home owned could be complicated in the near future for part of the demand, which until a few weeks ago could afford to buy a home. Governments vs. Covid: more money to buy a house or pay only interest E. SANZ Governments around the world have been quick to take steps to cushion the brutal impact it will have on their economies and their citizens as much as possible In addition, as Juan Confnández-Aceytuno recently published in El Confidencial , "in Spain, this crisis takes us with the feeling of an economic recovery that has not yet reached the finalist economy , with the shared perception that we are reaching a change trend in the residential sector, a slowdown in the overall economy and a lack of political stability. " "China is the most recent example in which Spain can look at itself, but as early as 1918, the year of the misnamed Spanish flu, different studies revealed that those places where it acted sooner and more forcefully — in terms of social distancing— Against the epidemic they grew faster when the pandemic passed ", they point out from the Fotocasa studies department. A final example is that of the 2003 SARS and its effect on the GDP of Hong Kong , one of the most affected places. The North American real estate portal Zillow carried out a study on the behavior of the residential market during previous pandemics and concluded that, although home sales fell dramatically during the outbreak, prices remained almost the same or suffered a slight decrease, which according to this portal had sense, since it is more difficult for prices to fluctuate when there are few transactions. An opinion shared by Juan Fernández-Aceytuno. "We do not know how it will affect prices. We have to wait. At this moment, if I am commissioned to appraise a work in progress, I will take my database and my witnesses. The prices when evaluating them will have a curve that will not follow that of transactions. We cannot confuse value and price, it would be outrageous. There may not be a price because there are no transactions , but the house has a value. I will have to warn in my reports that we are facing a situation of 'shock' and that the appraisal may be affected in the medium and long term, but I cannot quantify it. When transactions begin to occurand a promoter, a witness or a property agent tells me that he has had to drop 20% to sell a house, so I will already have a piece of information to add to my database and prices will start to be adjusted. But do not expect a sudden change in valuations, but a trend, up or down, in the medium or long term. " Recovery in V? "During the influenza pandemic of 1918, as well as the SARS of 2003, the bibliography tells us that GDP fell rapidly around 5-10%, but also that it grew immediately afterward. This type of economic recovery in the form de '—according to the bibliography consulted— is characteristic of pandemic crises, on the other hand, in financial crises, where periods are longer, the recovery varies, depending on the country and its exposure, in periods between 18 and 36 months, "Aceytuno recently explained. V-shaped recovery is characteristic of pandemic crises, although recovery takes more time in financials "With regard to housing prices in Hong Kong, these did not alter the trend prior to the critical moment of the crisis , although activity fell suddenly, at around 70%. When the causes that slowed the Interaction between people, and therefore visits to homes and bank branches, transactions not only recovered, but in terms of transactions the change in positive trend is striking. Regarding prices, it is not that they have decreased since then, but they continued their downtrend practically as if nothing had happened. " As Fotocasa points out, "what many of these patterns have in common, unlike the Spanish financial crisis of 2008, is that their financial systems made a quick effort to maintain liquidity . In this way, the temporary negative economic effects were offset, facilitating short-term recovery. However, Spain is not China, nor Hong Kong of 2003 nor, at all, the United States of a century ago. None of these antecedents allows us to predict the future. Because the current pandemic of Covid- 19 has no possible equivalence with any of the above: globalization has brought much more connected societies (hence the rapid spread of the virus throughout the world) and much more interdependent economies, "they conclude from this real estate portal.
Details

Category: Villas Fox Blog
Hits: 12412
We recently celebrated 5 years since we got the keys to our Villas Fox office, and although we considered having a wild party, we thought we'd save that until we hit 10 years!  So, instead we opted for a cake and a few drinks in the office before heading to Paco's (Mesón Rincón de Paco) to celebrate with the family and some fantastic paella!  Let's hope the next 5 years are as successful as the last!  Thanks to everyone who has helped us to reach this milestone - you know who you are! xxx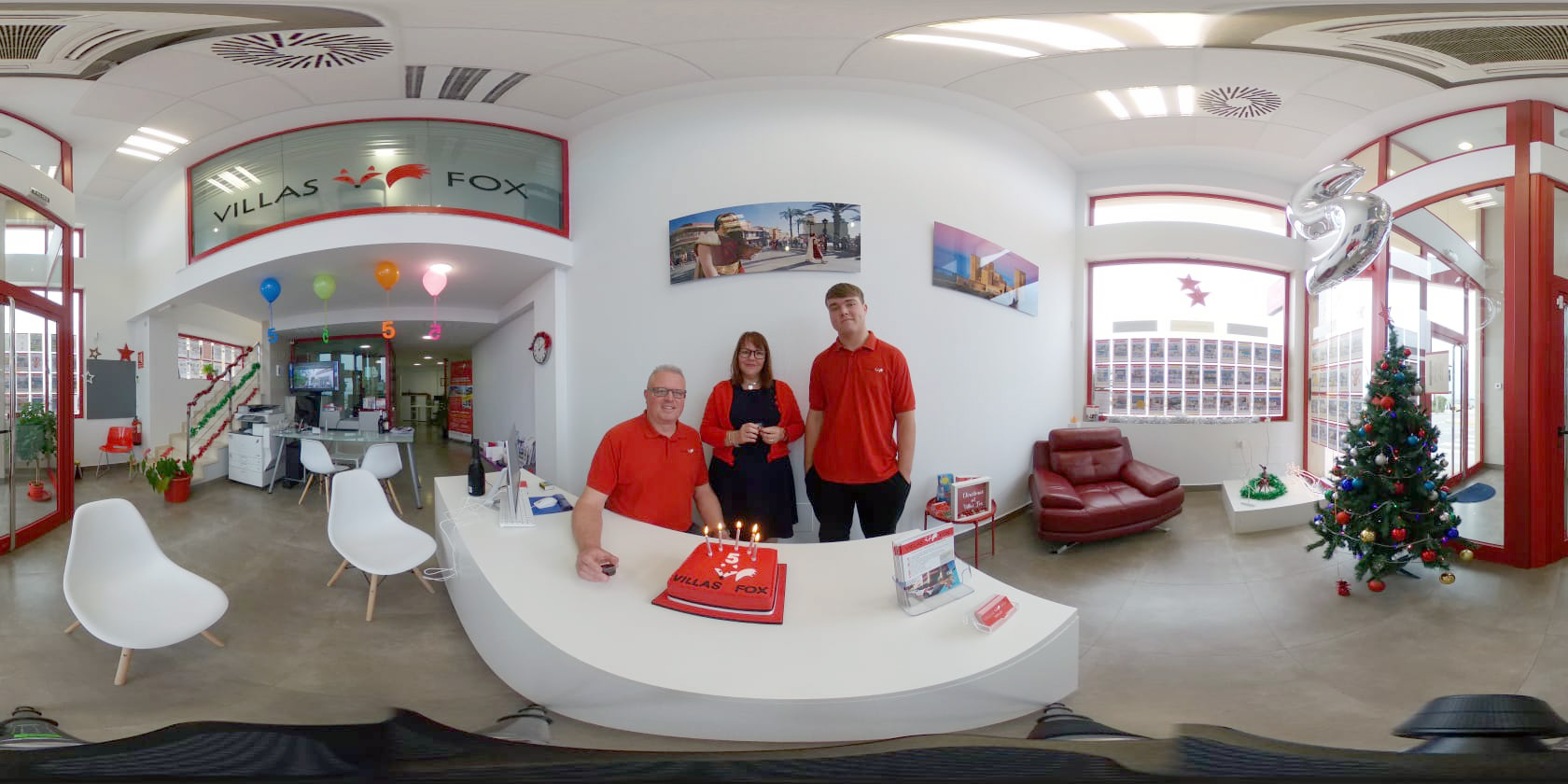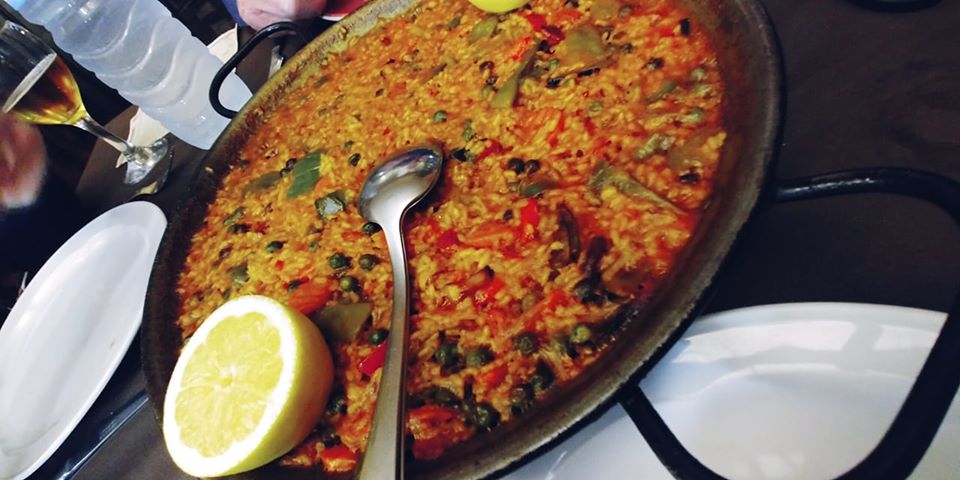 !gracias a Paco y Maria por otra cena magnífica en Rincón de Paco! 6 personas, 2x paella (una de verduras y otra de pollo) y la cuenta total era tan solo 65 euros!!! Another great meal in Rincón de Paco last night. 6 people, 2 paellas (a veggie one and a chicken one)..so big we had to take a lot of it home...and the bill came to just 65 euros. You have to order the paellas in advance (the seafood one is excellent too) but if you haven't tried it yet you must do. I'm not even a massive paella fan myself normally but Paco's paellas are something else! And if you don't want paella there are about 25 tapas to choose from and his solomillo is excellent too.