FOXBLOG!
Details

Category: Villas Fox Blog
Hits: 15981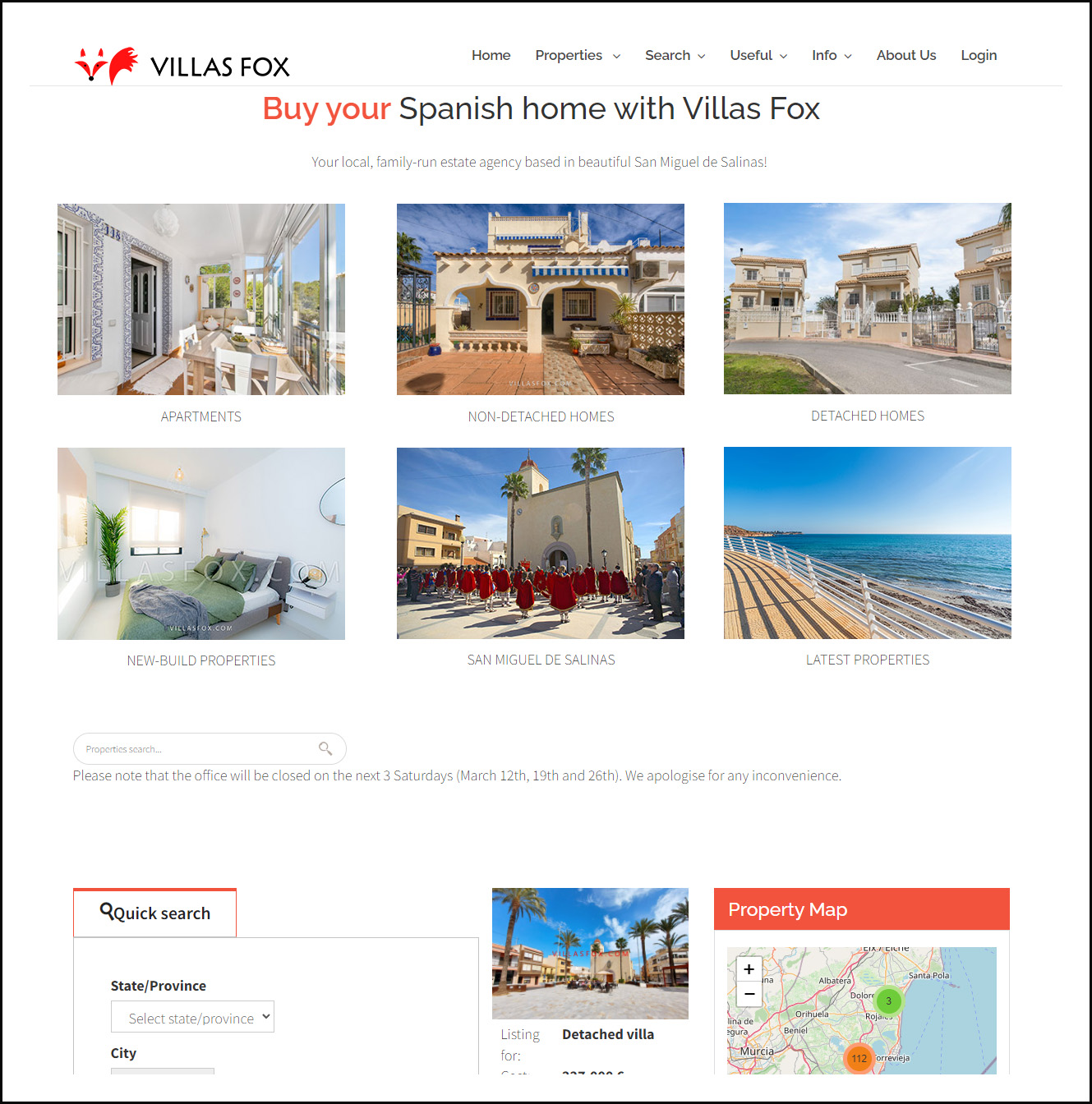 If you are thinking about selling your Spanish property, you´ve come to the right place!
This is how we do it:
a) VALUATION We will visit the property to offer a no-obligation consultation and suggest a sensible price at which to advertise. We will use data about properties we have recently sold in the area to try to make the valuation as realistic as possible. We will listen to your requirements and give you good advice about the way forward.
b)
DOCUMENTS
If we are in agreement on the price, we ask you to provide us with copies of the title deeds, recent bills, NIE and/or passports, and payment for the energy and habitation certificates (these will be valid for 10 years - see
https://villasfox.com/index.php/properties/selling/energy-and-habitation-certificate-price-list
) and sign our marketing contract which details our fees (we don´t charge the buyer a finders fee, and we don't charge extra for your choice of solicitor!) If you choose to appoint us as sole agents, our fees are lower, and we will go the extra mile (eg videos and 360º tours if appropriate) but with one months notice you will be able to change to the higher, non-sole-agency rate if you like and appoint additional agents. However if you appoint several different agents, it´s possible that your property will end up being advertised multiple times on the same websites with variable quality of images, and this can be counter-productive (you will possibly look like you are desperate to sell, and you will have less control over how your property is presented). Our fees are only payable upon successful completion of the sale.
c)
PHOTOGRAPHY
We will visit to take a set of professional photos and then edit the photos and write the description. A "For Sale" board is optional (no charge). Prior to the photo shoot, please take into consideration the suggestions about home-staging given at
https://villasfox.com/index.php/properties/selling/preparing-for-the-photo-shoot
as it can really help us to provide high quality, professional photos that will attract more buyers. We will also arrange for the architect to visit to do the energy and habitation certificates which you paid for.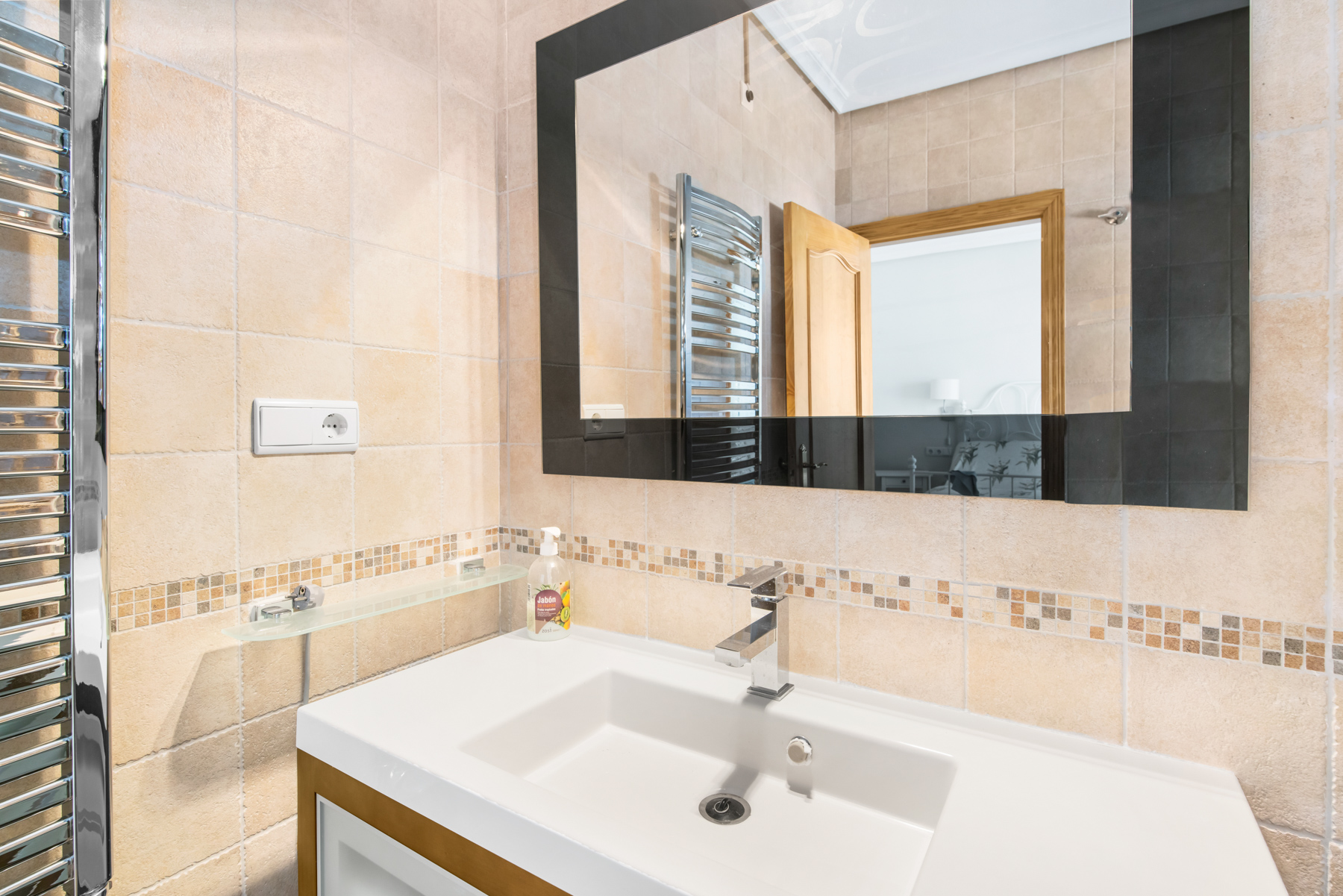 d)
MARKETING
We will upload your property details to our Villas Fox websites, and also Idealista, Kyero, Thinkspain, A Place in the Sun, Green-Acres, pisos.com, apired.com, AIPO.ORG.UK, Yaencontre, Makoo, Trovit, and Mitula in several different languages, to make sure the whole world can see it! We also run social media advertising campaigns (Facebook, Instagram etc) and mail your property details to our mailing list database. Potential buyers can also
download our Android app for free
, which will also feature your property.

e)
FEEDBACK
We will provide you with a link to your own "Owner Dashboard" (
https://villasfox.com/index.php/properties/selling/owner-dashboard
) which allows you to monitor all enquiries and viewings that we log on our own system, showing nationality of clients, which website they enquired on etc, total number of hits on our website, and also information about actual selling prices of other similar properties, allowing you to compare the price, number of bedrooms and bathrooms, plot size, average price/m2 etc of properties already sold with your own property. The owners dashboard allows our owners to closely monitor how successful the advertising is, and to make informed decisions about price changes.
f) VIEWINGS We will conduct unlimited viewings on the property, but we try to target the right clients for your property, rather than show it to as many people as possible!
g) OFFERS If a client makes an offer, we will remind them of their obligation to pay the 10% sales tax on top of the offer price, plus the notary and registry fees. However, any architect, registry or notary fees relating to a regularization of the title deeds (eg if a swimming pool needs to be added to the deeds) are borne by the vendor and we can advise about this. We can also give you an approximate estimation of what your proceeds are likely to be, based on the offer, taking into account our fees, solicitor fees, plusvalia tax, 3% non-resident retention, etc. However, your lawyer will be able to give you a more accurate estimation. We will give you advice about whether to accept the offer, or make a counter-offer.
h) RESERVATION Should you decide to accept the offer and the terms (eg timescale for completion, furniture to be included), then we will provide their lawyer with the property documentation for them to check. It is customary to allow the buyer and their lawyer a few days to check that everything is in order, but if additional documents need to be applied for due to some irregularity with the property, additional time will be required. Once the buyer´s lawyer is satisfied with the documentation supplied, the next step is for us to take a deposit from the buyer (5% with a minimum of 3,500 euros unless otherwise agreed between all parties) and we or one of the solicitors will hold that deposit until completion, and a contract will be drawn up (sometimes we do the contract, but sometimes one of the lawyers prefers to do it). The contract usually contains an inventory of the items to be included in the sale, or sometimes this is done separately. It should be signed by all parties.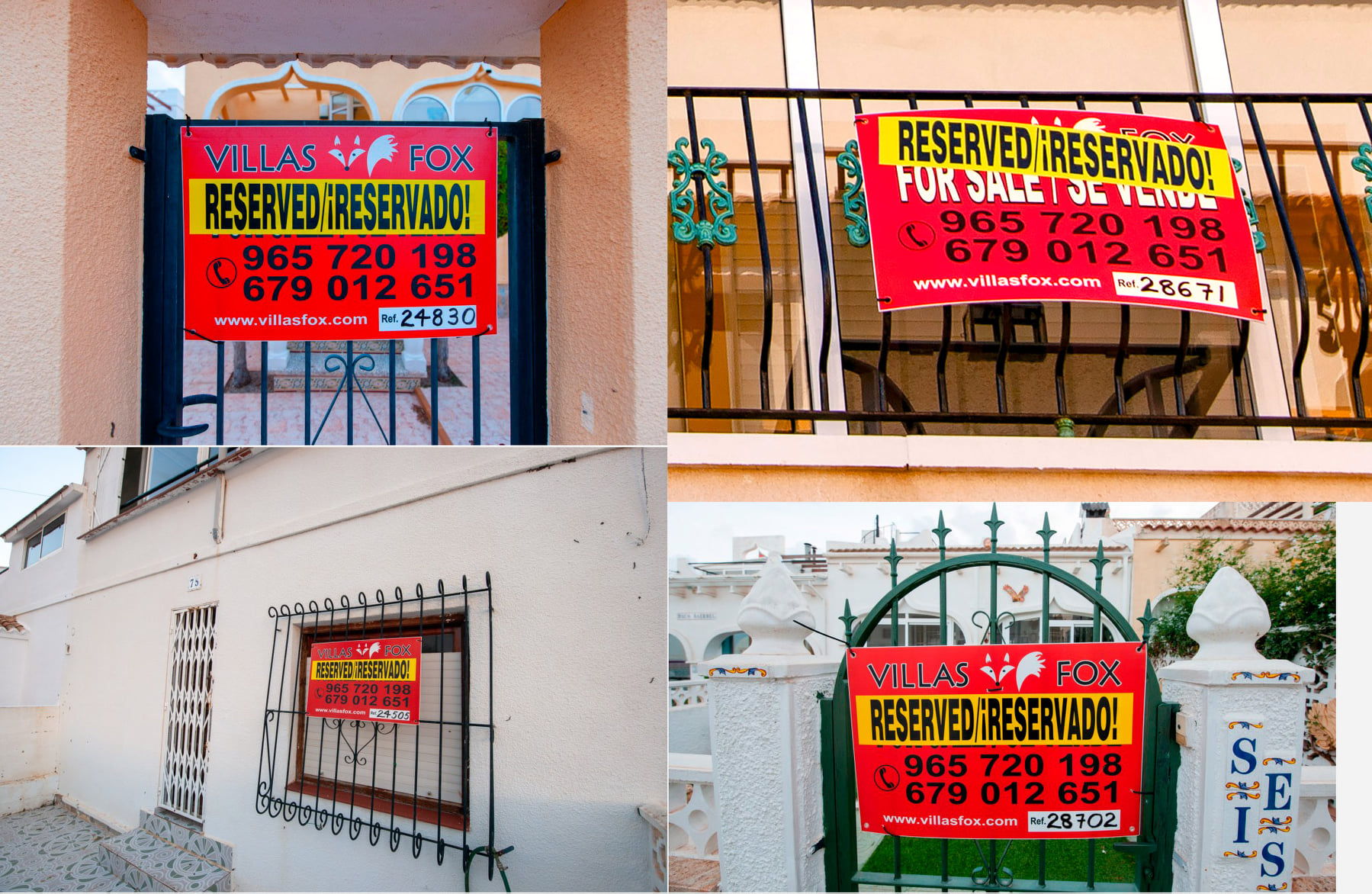 i) OBLIGATIONS You will remain responsible for the upkeep of the property, to keep it in its current state until completion, even if completion is delayed for some reason. During this time you remain owners of the property and are free to use it as you normally would. However, we advise against renting the property during the reservation period. You must ensure that the utility supplies (water, electricity and gas if applicable) remain connected, continue the maintenance of the swimming pool and garden if applicable and the payment of any community fees or bills for the property during the reservation period.
j) PREPARING FOR COMPLETION The completion date has to take place within the deadline given on the contract (unless both parties agree to extend it), but the exact date is decided in discussion with all parties. If you are unable to attend the notary on the suggested date of completion, then you will have to give power of attorney to your lawyer. This can be done at the notary at any time prior to the completion, and many owners find it to be a lot more convenient than having to attend the notary in person. Once you have given power of attorney to your lawyer, there is no need for you to attend the notary again in person on the day of completion. However, make sure that the power of attorney includes the power to endorse the cheque, so that your solicitor can sign the bankers draft if needed to give to a currency company or bank. If you are a Spanish resident for tax purposes (ie if you are a "residente fiscal" and you do an income tax return in Spain each year), then you must obtain up-to-date certificates to prove this (your lawyer or accountant can apply for these if you give them plenty of notice about the sale), because otherwise 3% of the sale price will be retained by the Spanish tax authorities. If you are not a Spanish tax resident then the 3% will definitely be retained. Your lawyer or accountant can help you to claim this 3% back if you can demonstrate that you don´t owe that amount in any unpaid taxes (eg capital gains taxes on the sale). It can take up to a year to claim this money back.
k) THE COMPLETION DATE The buyers may inspect the property at any time up to and immediately prior to the completion, or appoint somebody to do this on their behalf, in order to check that the property is still in a satisfactory condition, and that the items in the inventory remain in the property.
You must vacate the property prior to the appointment at the notary for the completion, and provide all sets of keys to the property to us or your solicitor.
Payment is normally made in the form of a bankers draft in your name (the funds are guaranteed). Most UK-based vendors use a currency company to send the funds to their UK account, bypassing the Spanish banks and avoiding the hefty bank fees that the Spanish banks charge to process cheques. We have a currency expert called David Evans from Lumon who is based locally and can explain the process to you in simple terms when you first put the property on the market, so that everything will be in place for when you find a buyer.
We (Villas Fox) don´t normally attend the notary ourselves, as by that time your lawyer will be in full control of the sale. However, we will make ourselves available to assist with anything throughout the sales process, to make sure that everything goes smoothly!
l) THE SALE IS COMPLETE! After the sale, it is normally the buyer´s lawyer who ensures that future community fees, water, electricity and SUMA bills will be charged to the new owner. However, we advise that once the sale is complete that you cancel any direct debits or standing orders related to the property (eg water, electricity, gas, community fees, and also house insurance). Remember to ask your lawyer about claiming back the 3% retention for non-Spanish tax residents if you think you are entitled to claim this back.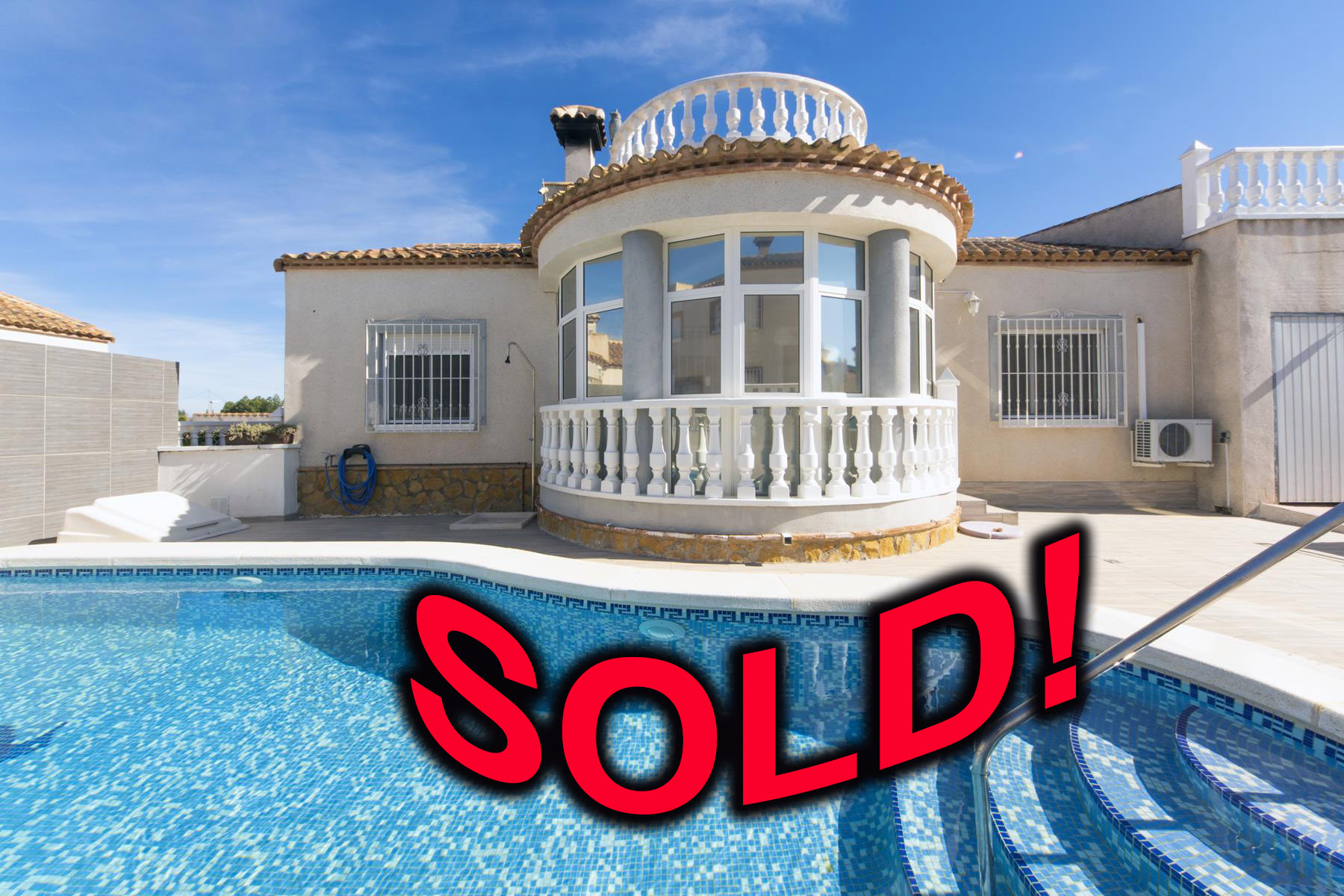 We are often asked how long it will take to sell the property. If the property is advertised at the correct price for current market conditions, the sale should take less than a year, and ideally less than 6 months. However, in Spain even if the price is right, it can take longer to sell a property here than it would in your home country. One mistake owners often make is to advertise at a higher-than-market-value price because they are "not in a hurry". This is a mistake since you are highly unlikely to find a buyer willing to pay such a price, and by the time you realise this and reduce the price, the property will already have gone stale by being on the shelf for too long, and you have lost the "honeymoon" period where buyers will get excited about a property that is new to the market and offered at a sensible price.
Although the British market is still strong, we see an increasing number of French-speaking clients buying in the area, and being able to speak French and Spanish as well as English helps us to communicate with most of our buyers in their own native language.
We are members of the AIPP (Association of International Property Professionals), and Andy holds diplomas in estate agency, property valuations and property marketing with Tago Estudios.
So, give us a call and let´s have a chat about selling your Spanish property!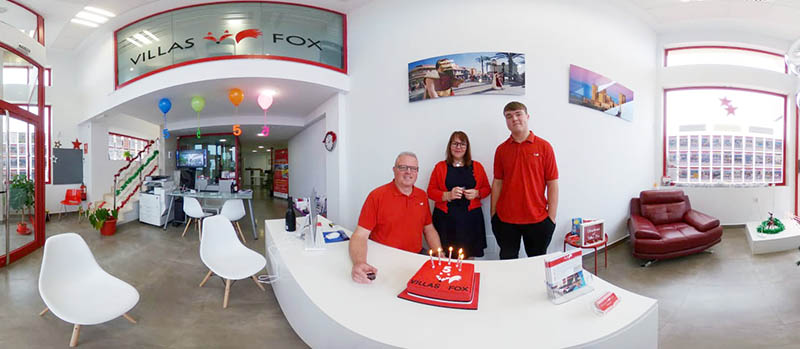 Details

Category: Villas Fox Blog
Hits: 12187

Well, everybody is doing it, so why not us?!
To celebrate black Friday/Saturday/weekend, we approached our owners to ask if they would like to reduce their prices.  And the response was excellent, with some very tempting reductions agreed!
We have just sent a mailshot out with all the reductions, which you will have received already if you are on our mailing list.
If not, just click here to see all the VERY interesting price reductions!  
But don't forget, there is only ONE available of each item ladies and gentleman!
To make sure you are the first to hear about all our exciting new offers and news at Villas Fox, make sure you are on our mailing list!
Details

Category: Villas Fox Blog
Hits: 10315
We have recently upgraded our 360º camera and are doing more virtual tours for our exclusive properties!  We did the 3rd one today with the new camera, on a magnificent Las Comunicaciones villa (ref 469800) which has just been reduced from 335,000 euros to 315,000 euros!  Enjoy the tour:
Click the following link to see more properties with 360º virtual tours:
Details

Category: Villas Fox Blog
Hits: 14148
Yesterday was a busy day in terms of implementing new marketing ideas!  We saw our first ever billboard erected on the ring road around San Miguel de Salinas, which Ollie designed (after several ideas by me having been rejected by both Ollie and Sorelle for being too old-fashioned and basically....er....rubbish!)  The billboard will remain in place for at least 12 months and will hopefully put us even more on the map!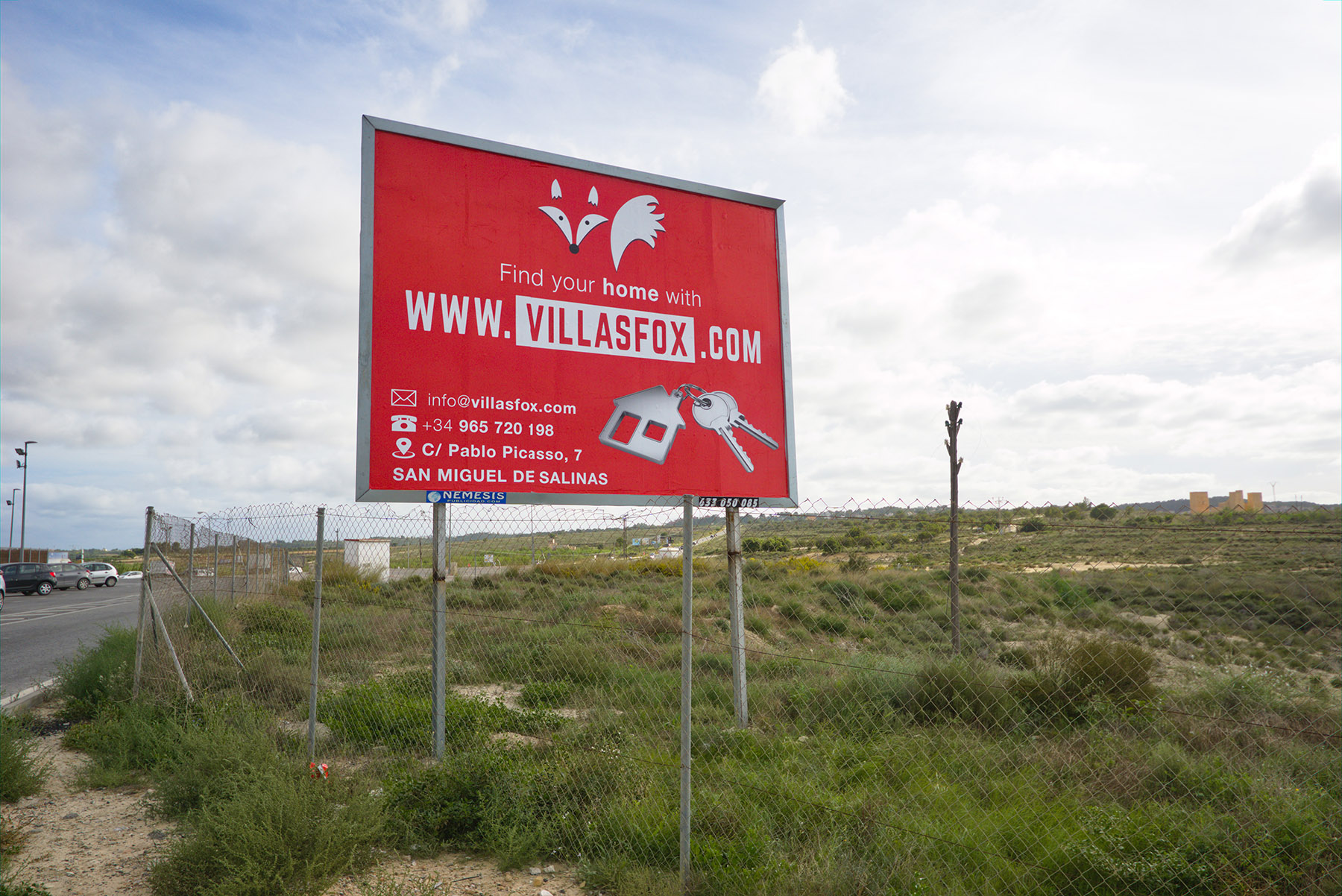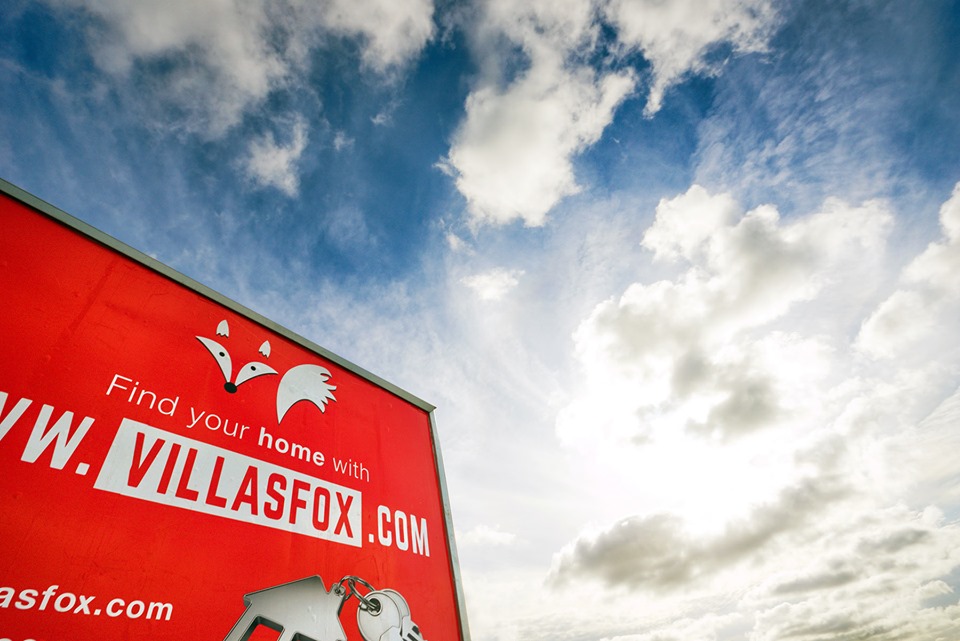 Also, we took up an offer from Juanjo (probably the best plumber and air-con guy in town) to advertise our properties prominently in his office in the church square.  Hopefully in this way we can help each other's businesses to grow, and of course it's an opportunity for our owners to have their properties seen in not one but two prominent windows in the town.  Juanjo hasn't got room to show off all our properties at the same time, but we will be rotating them every week or two.  I don't mean turning them upside down......you know what I mean!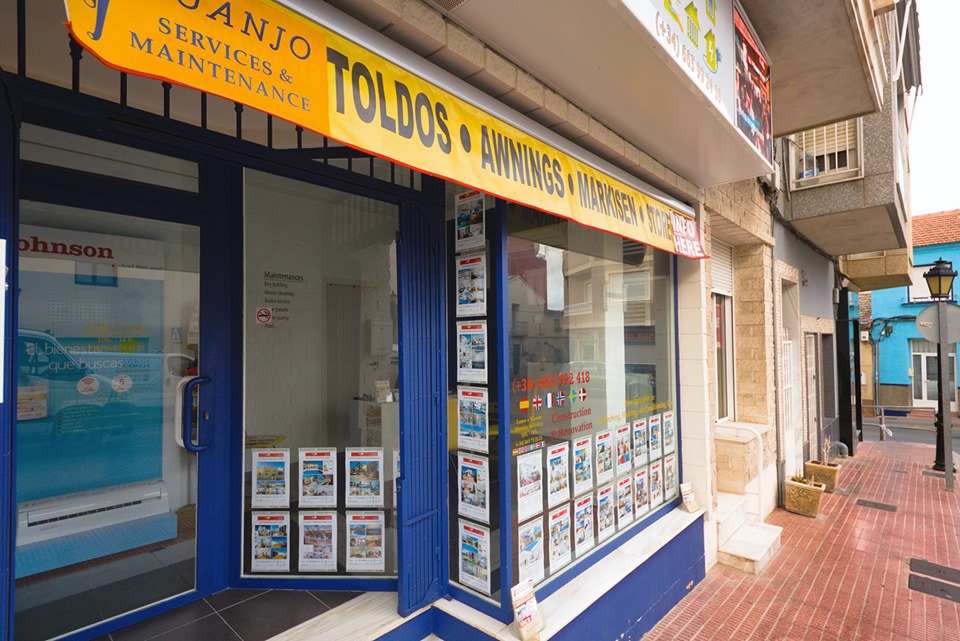 The church square in San Miguel is currently under renovation and we look forward to bringing you photos of what it looks like after the makeover is complete!  I know my friend Corrina who runs the Jota Jota (or JJ's) bar in the square is looking forward to it becoming a focal point for the village again.  Another new bar has opened just around the corner where Mariano Internacional used to be.  It's called the Chill and Grill Bar and although we haven't tried it ourselves yet, we are hearing some excellent reports about the place, especially the food!  
Details

Category: Villas Fox Blog
Hits: 10123
As many of you know, the southern Alicante province and Murcia were hit by the worst storm in about 140 years a few days ago, which caused the River Segura to burst its banks in several places, and many of our neighbouring towns and their residents (both human and animal) have suffered terrible consequences of the flooding.
On Saturday we helped to collect some bedding and food for one of the local dog shelters which had been flooded (La Finca Castellana), but it is obvious that there are still hundreds and thousands of people who still need assistance in places like Orihuela, Dolores, Almoradí etc etc. The Town Hall of San Miguel de Salinas (which luckily wasn´t as badly affected due to our elevated position) is helping out with supplies of food, water and clothing and many people and companies have volunteered their time and resources to assist in whatever way they can. A relief fund has been set up by the Diputación de Alicante in conjunction with the Red Cross and local relief agency CECOPAL.
Villas Fox normally sponsor our local carnival comparsa (group of friends who dress up and parade in the carnival each September during our local fiestas) the Tarambanas, but after discussing with comparsa leader Manola yesterday, we decided that a contribution to the relief fund for those affected by the floods would be more appropriate this year, and show that even though our town is continuing with its fiestas, we are in full solidarity with our less fortunate neighbours. We have therefore contributed 250 euros to the fund this morning, on behalf of the Tarambanas and Villas Fox.
It made me realise just how important such assistance is when the lady who served me in the bank told me that she is from Dolores and many of her friends and family have had to be evacuated from their homes by boat or helicopter taking with them only what they are wearing, and she told me how grateful she was for all the people that have helped out over the last few days, and became quite emotional. We realise that this is only a "granito de arena" (grain of sand) as the Spanish say, to mean a small contribution which together with many others might add up to something significant. ¡Animo Vega Baja y Murcia!!
If you would like to contribute, the various bank accounts and SMS numbers are listed below.  ¡Muchas gracias a todos!!